Webinars.com Where do you want to hold your next event? In a stuffy meeting hall? In a crowded board room? How about in the comfort of your own office? We can show you how.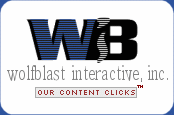 Wolflbast.com Position and brand your company, products and services without spending $ millions on an advertising campaign. "Our content clicks!"(TM)


To The Bone.com A comfortable, customer-artist-friendly site where anyone can come in, browse and leave feeling that they have experienced another level of communication!
A great place for independent musicians to showcase and sell their music. CD reviews,
music samples, links and more!

Levinson & Weinberg A full-service trial law firm offering personal attention and aggressive advocacy in serious and complex personal injury cases.
(Located in New Jersey)